College Counseling
The Silver Oak High School Counseling Program provides all students with a comprehensive school counseling curriculum which encourages the highest level of student achievement. Through a caring and engaging environment, we foster academic, career and personal/social growth to reach the students within our diverse population. Utilizing individual meetings, classroom presentations, a college counseling curriculum offered to the junior class and evening college nights, the counseling department works at helping every student meet their individual goals. Collaborating with teachers, administrators, parents and the Silver Oak community, we help all students to be successful lifelong learners.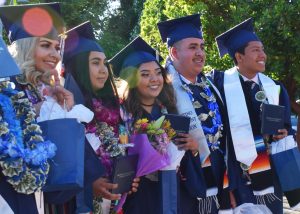 What does the Silver Oak High Counselor do?
Yanira Ledezma
Academic Dean & College Counselor
The Counselor meets with students in large groups, small groups and individually to implement the counseling program by providing:
 Academic planning
 Academic support interventions
 Post-secondary planning and the college application process
 College & Career planning
 Financial Aid & Dream Act information
 Education in understanding self and others
 Peer relationships and effective social skills
 Communication, problem-solving, decision-making, and conflict resolution
 Multicultural/diversity awareness
 Crisis Intervention
The Counselor collaborates and consults with parents to address:
 Academic planning and support
 Post-secondary planning
 School-to-parent communications/concerns
 Referral process
Counselor Availability
The Silver Oak High School Counselor is available for student walk-in appointments anytime outside of instructional time; before and after school, as well as during lunch. Students can contact the counselor directly for an appointment. Parents and Community members can contact the office 510-370-3334 or Yanira Ledezma directly at yanira@silveroakmontessori.org for an appointment.
Senior College Counseling Workshops 
(October 1-November 30)
Our college counselor Ms. Ledezma will be visiting the following Senior Thesis classes to advise seniors on the college application process, financial aid applications, SAT/ACT registration, the letter of recommendation process and more! 
Please refer to the following schedule:
| | |
| --- | --- |
| SECTION | COLLEGE COUNSELING WORKSHOP DATES |
| Section 5 | Tuesdays, 9-10:45am |
| Section 6 | Fridays, 9-10:45am |
| Section 7 | Mondays, 12-2pm |
| Section 8 | Mondays, 2-4pm |