Donate and Support
Support Silver Oak High School's fundraising efforts
Silver Oak High School is a tax-exempt 501(c)(3) nonprofit organization, meaning it is a charitable organization (Tax ID: 45-5620286). Your donation is tax-deductible as allowed by law.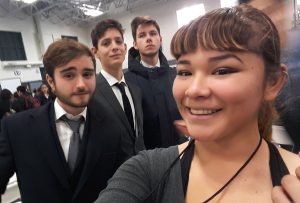 Silver Oak High School really needs your support. See below the many ways you can help. All money raised benefits directly the students' education!
---
Donations
Thank you for considering making a donation to Silver Oak. All donations are greatly appreciated, doesn't matter the amount, and they are tax-deductible as allowed by law.
You can mail your check to Silver Oak High School, at 951 Palisade St, Hayward, CA 94542. Check payable to Silver Oak High School. Make sure your name and address are on the check, so that we can issue you a receipt.
You can donate by clicking the Donate button below and use your credit card or Paypal account.
---
Corporate Matching
If your company offers a matching program, take advantage of it to double your donation! Your company will be able to claim the tax deduction as well.
Once you make your donation to the school, submit your matching request to your company HR department. You may be directed to fill your request online (through EasyMatch or similar web site). The first time, you may be asked to provide information to add the school to their supported list of nonprofit organizations (501 (c)(3)).
Our legal name: Silver Oak High School Public Montessori Charter
Our Common name: Silver Oak High School
Our address: 951 Palisade St, Hayward, CA 94542
Our Employer Identification Number: 45-5620286
Contact Email: info@silveroakmontessori.org. The first time, companies often contact us to request a copy of our 501(c)(3) determination letter.
Some companies process the matching donation right away, while others do it on a quarterly basis.
There are many companies which are offering a matching program to their employees. Here's a list of only a few companies, but there are many more: Adobe Systems, Albertson, American Express, Apple, Applied Materials, AT&T, Automatic Data Processing, Bank of America, Bloomingdale's, Boeing, Charles Schwab, Chase, Chevron, CIGNA, Citigroup, Coca-Cola, Delta Airlines, Ebay, Exxon Mobil, Fidelity Investments, Gap, General Electric, Genentech, Google, Hewlett Foundation, Home Depot, IBM, Intel, Intuit, Logitech, Macy's, Microsoft, Nike, Nissan, Nokia, Norvartis, Oracle, PepsiCo, PG&E, Shell Oil, Sony, State Farm, Toyota, UPS, Union Bank, Verizon, Visa, Washington Mutual, Waste Management, Wells Fargo, Yahoo.
---
Rewards Programs
You can participate in all those rewards programs described in this section, at no cost. And you will make a BIG difference to support the school. A percentage of your purchases, through those programs, is sent back to the school.
Amazon.com
No signup, just click on the icon below to shop at Amazon. And bookmark the link!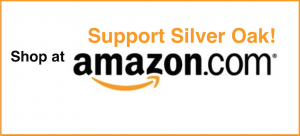 Here's the link if you would like to send it to your friends and relatives: http://www.amazon.com?_encoding=UTF8&tag=wwwsilveroakm-20
Silver Oak is part of the Amazon Affiliates program and will receive a percentage of all your purchases when you are using this link above with our embedded school code! Make sure you use our link, and then add items to your cart. Items already in your cart, which were not added when you use our link, will not get credited.
Remember to use our link each time you shop at Amazon.
eScrip
Register online at Escrip.com and the school will get a percentage from participating merchants (http://www.escrip.com/merchants/guides/merc_safe_wcn.pdf).
Group Name: Silver Oak High School
Group ID:   500046509
Enter your Grocery card (Safeway Club, Fresh & Easy), and debit/credit card number and everything else is handled automatically by eScrip.
Target card
Coming soon.
---
Recycling
Collect and send your aluminum cans and plastic bottles to school! This program is to help sponsor the cost of outdoor field trips. Students participate in a Ropes Course event during the first week of school to foster team building. And this year, Silver Oak juniors are going to Washington DC! They need your help!
Please, check if you see the California Redemption Value (CRV) indicated on the bottles. We accept aluminum cans and plastic bottles with CRV, it is mostly for the following beverages: water, carbonated water, soft drinks, sport drinks, coffee and tea drinks, 100% fruit juice in small containers.
Please do NOT send glass bottles of any kind (it is heavy and breakable). We do NOT accept milk containers, there is no CRV value.
---
Teacher Projects
Support teachers directly with what they need for their classrooms!
Click here to see completed and active projects.
Click here to support Art at Silver Oak Montessori!