"The future of our economy, the strength of our democracy, and perhaps even the health of the planet's ecosystems depend on educating future generations in ways very different from how many of us were schooled."
– Tony Wagner, Co-Director of the Change Leadership Group at the Harvard Graduate School of Education in 2007
NEWS AND ANNOUNCEMENTS
Multicultural Festival – Sun May 21st
The reason Silver Oak starts at 8:45am!
The American Medical Association, the CDC, and the American Academy of Pediatrics have all called for middle schools and high schools to start at 8:30 am or later as an urgent health issue for adolescents.
The National Conference on Adolescent Sleep, Health, and School Start Times will be held April 27-28th, 2017 at the JW Marriott in Washington D.C. to explain this issue to all interested school stakeholders from around the country. Education policy makers, school board members, superintendents, and other school leaders and stakeholders are coming from around the country to attend this important educational event.
https://www.schoolstarttimeconference.org/
We are a Safe Haven school!
Your children's right to an education and protection are of paramount concern to the faculty, staff, administration and board here at Silver Oak. Attached please find a statement, including helpful links & "know your rights" materials to educate our community and ensure that Silver Oak is a safe haven to students of all diverse backgrounds and immigration status.
Safe Haven Statement – Materials
El derecho de sus hijos a una educación y protección son de suma importancia para la facultad, el personal, la administración y la junta aquí en Silver Oak. Adjunto encontrará una declaración, incluyendo enlaces útiles y materiales de "conozca sus derechos" para educar a nuestra comunidad y asegurar que Silver Oak sea un refugio seguro para estudiantes de todos los antecedentes y estado migratorio.
Declaración de Refugio Seguro – Materiales
2017 Auction Dinner – Sat March 25th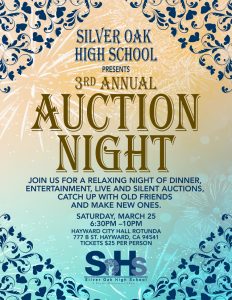 2016-2017 Donation Drive
—————————
Newsletters from Ms. Blasi
June 2017 Newsletter
May 2017 Newsletter
April 2017 Newsletter
March 2017 Newsletter
February 2017 Newsletter
January 2017 Newsletter
Montessori Life Article – Environmental Stewardship (Maui)
Coral Health Monitoring on Maui, at Montessori Hale O Keiki
December 2016 Newsletter
November 2016 Newsletter
October 2016 Newsletter
August/September 2016 Newsletter
August 2016 Welcome Back Newsletter
—————————
Thank you to Lowe's!
A huge THANK YOU to Lowe's store manager Richard Dziedzjic and his employees (from the Union City store), who volunteered their time Saturday Oct 29th, to help us with our outdoor project! And great job SO students! You all made a difference!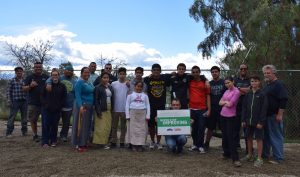 —————————
Bring your recycling to school
Collect and send your aluminum cans and plastic bottles to school!
Please, check if you see the California Redemption Value (CRV) indicated on the bottles. We accept aluminum cans and plastic bottles with CRV, it is mostly for the following beverages: water, carbonated water, soft drinks, sport drinks, coffee and tea drinks, 100% fruit juice in small containers.
Please do NOT send glass bottles of any kind (it is heavy and breakable). We do NOT accept milk containers, there is no CRV value.