"The future of our economy, the strength of our democracy, and perhaps even the health of the planet's ecosystems depend on educating future generations in ways very different from how many of us were schooled."
– Tony Wagner, Co-Director of the Change Leadership Group at the Harvard Graduate School of Education in 2007
NEWS AND ANNOUNCEMENTS
2016-2017 Donation Drive
—————————
Newsletters from Ms. Blasi
January 2017 Newsletter
Montessori Life Article – Environmental Stewardship (Maui)
Coral Health Monitoring on Maui, at Montessori Hale O Keiki
December 2016 Newsletter
November 2016 Newsletter
October 2016 Newsletter
August/September 2016 Newsletter
August 2016 Welcome Back Newsletter
—————————
Thank you to Lowe's!
A huge THANK YOU to Lowe's store manager Richard Dziedzjic and his employees (from the Union City store), who volunteered their time Saturday Oct 29th, to help us with our outdoor project! And great job SO students! You all made a difference!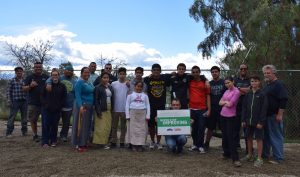 —————————
Bring your recycling to school
Collect and send your aluminum cans and plastic bottles to school!
Please, check if you see the California Redemption Value (CRV) indicated on the bottles. We accept aluminum cans and plastic bottles with CRV, it is mostly for the following beverages: water, carbonated water, soft drinks, sport drinks, coffee and tea drinks, 100% fruit juice in small containers.
Please do NOT send glass bottles of any kind (it is heavy and breakable). We do NOT accept milk containers, there is no CRV value.